Calculating your superhero identity for the day...
Accessing Victoria's Secret secrets...
Searching the sky for signs...
Flipping through virtual dictionaries...
Your Superhero Identity For Today Is:
Name: Green Cat
Secret Identity: ?
Special Power: Crackling Chopsticks
Transportation: Turbo Minivan
Weapon: Psychotronic Rifle
Costume: Chain Helmet
Sidekick: Withers
Nemesis: Jack the Unspeakable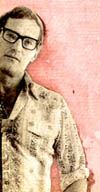 Tragic Flaw: Fear of short people
Favorite Food: Twinkies
brought to you by Humorscope.com Superhero Identifier Tell me what your secret ID is!